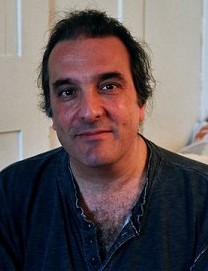 The unlimited vistas of music show us our own limitless perceptions of our being. My hopes of music are my hopes for art and humanity. I was born in New York City, the son of a drummer and the grandson of a guitar player. I always saw music as a work of heroes. My father saw music more as a vocation than an occupation. I was lucky. Growing up in New York City I could experience the greatest sounds in jazz. Seeing these greats play was a blessing. I remember seeing Elvin, Mingus, Art Blakey, Woody Shaw, Miles, Liebman, Tony Williams, Dexter Gordon, Ron Carter. What an experience. This intensified my love for this music. I always thought that there was a point to it all. A reason. I took chances in my life because of this. I was always single-minded. I had a hard time compromising. I knew being a musician was a career, but I was never business minded. I just floated. Of course, my father was always anxious for me. He wanted me to play some kind of jazz he understood, but I just played what I heard at the time. I felt jazz was a very contemporary sound, not just a sound that was based on the past although I have great respect for the past. I think these perceptions come naturally from the time we live in. Progress. What is sound? What is perception? I never felt I was good enough. A father who loved the greats can be very intimidating. I was always searching for some perception that was my own. There was a time I thought 'forget music – it's impossible. You'll never have your own attitude'. Then I heard John Coltrane. He made me feel it was possible. Praise and Thanks.
Of course growing up in New York I thought these sublime thoughts but I had to make a living. I thought of myself as a drummer. I did what I thought a drummer should do. I became, of course, less idealistic and did all kinds of work – any work that would come my way. This included all genres. I thought of myself as a jazz musician but I seemed to be playing everything else except jazz. I got a steady gig in New York City in a warm-up band in a famous comedy club – Catch a Rising Star. It's a legendary comic club that a lot of the great comedians came through (Jerry Seinfeld, Chris Rock, Robin Williams, Richard Belzer). It was actually a great experience – kind of like a talkshow band (Jay Leno, David Letterman). It was a steady gig and it was real easy, and of course I could just float. The bass player on the gig was Lloyd Mair. He was a devotee of avant garde music and jazz. He knew some really interesting things about jazz. I learned a lot from him. Lloyd was great. Of course being at this club I played in some pretty interesting situations – Edgar Winter, Pat Benatar. I even played drums behind Andy Kaufman doing his Elvis routine. This club had more of a vibe than anything else. Anyway, it was a steady gig (five years). In that time I explored my own ideas and met a lot of musicians. One became a close friend – a tenor player Mac Goldsberry. He introduced me to a lot of the New York City players even though he was from Texas. Through him I played and recorded with Ed Schuller, Herb Robertson and Charlie Elgart (a commercial FM sounding jazz). I started to write music at that time. I made a recording with John Hart on guitar. At the same time I hooked up with (through Goldsberry) the singer, writer, jazz musician and poet Bob Lennox and his son Adam. Through Adam I first met Liebman. We did a record and gig doing this progressive rock thing. At this time also I also did a recording with Anthony Jackson, the legendary electric bass player. I also started to play more free jazz at this time. But things in New York for me weren't really going well. I broke up with my first wife and was feeling kind of dark. I was really going through a lot. There was a lot more going on than I could write about. You dig? I met some musicians from the University of Miami (Mike Gillis, legendary guitar player and great guy) and went to Japan for a few months with them. On coming back to the U.S. one of the teachers from the University said why don't you come to Miami – maybe we could hook you up with a teaching gig there. Then I thought, well okay, what else is there to do. I went to the International Jazz Educators Seminar at the University to check it out – see if I could get a gig. Anyway, at one of the parties that night I met Liebman, and he said to me 'What are you doing here?' I said maybe I can get a gig teaching here. Then he said forget that – go to Berlin where some of your mates went to live and play jazz (Lennox, Goldsberry). Liebman said that I needed to get out of NYC to see myself. He said if you were born there you needed to get out to feel yourself – New York is such an intense city (that was 1990). Anyway, I decided to got to Berlin – I had some money from that gig in Japan and borrowed some money from my Japanese girlfriend (Naomi) and sold my grandfather's vintage guitar (I got ripped off) and went off to Berlin.
I moved to Berlin in 1991. It was great. The Berlin Wall had recently come down and there was a good feeling in the air. I started to do more of the music I wanted to do (jazz). This city had a very free feeling. I started to work with Alex von Schlippenbach and his wife Aki Takase, and Gerd Dudek. I had an opportunity to hang and play with Reggie Workman on a Schlippenbach gig and was very honoured that he seemed to like me. I was learning more about the European free improv scene. At the same time I worked with the late legendary bass player Jay Oliver who influenced me in some rhythmic concepts and attitude. I was also privileged to work with the late gypsey guitarist Costa Lucas. My rhythmic concepts really took a turn when I worked with Hans Hartman (bass and stick player) and Turkish percussionist Mesut Ali – these guys could really play in different time signatures. At this time I was really understanding a different sort of sound.
I lived in Berlin until 1995. I felt a longing for some familiarity at this point (the English language). I returned to New York for a few months, then joined my wife (who I met in Berlin) in London. We had enough money for one month's rent and a phone. I had to borrow my first drum set, but somehow met some of the guys. I met Loz Speyer (great guy) who got me a drum set and he introduced me to a lot of the straighter players. I also met Alex McGuire who introduced me to Elton Dean, from where I met the rest of the free scene. I met Paul Dunmall and we played and recorded some great music together. I also made some great music and recordings with Elton. I started to complete some of the ideas I came up with in Berlin. I came up with a project called Freebeat with Elton Dean and sound engineer, Jon Wilkinson. It was a concept of playing through time signatures but playing also free through it. It never materialised as a label-released record but it inspired a lot of ideas. These ideas interested Dave Liebman. I recorded a similar but different project with him in Berlin (2003). These ideas and projects were never released either but I am working on it.
The CD 'In a Western Sense' handles some of these same concepts. I think that time signatures are a way of defining phrasing. My music really doesn't watch the time signature as much as the phrasing. Through beats (a drum thing) you can keep a pulse but have no number on the pulse. It's not in 1-1. That's impossible, since the phrasing has to be in one and it's not. It is actually many different time signatures but one pulse. I could explain this in more detail but not on a website bio. Anyway, this concept influenced practically all my musical ideas. Time and no time were brought together. Liebman told me I came into the world to do this. Who knows. The thing is that my improvised and free music seems to have this pulse in it. It is done quite unconsciously on some level (I think it was to do with my studies or working out these concepts) and on another level quite deliberate. I do have a method. Sometimes great complexity is held together by great simplicity. Anyway, I moved to London in 1996 – it's been good and bad – what hasn't? It's been a hard place for me to meet people but I did get some records out. I played and recorded with Paul Dunmall, Elton Dean, Simon Picard, Paul Rutherford, Keith Tippett, Paul Rogers, Marcio Matthos and John Edwards. Some great music was played.
I was also very fortunate to meet the band that played 'In a Western Sense' – Zoe Rahman, Carlos Lopez-Real and Oli Hayhurst. I have (probably because I am an American) the need to combine the sounds of straight and free jazz. It is part of my instinct. Like many other musicians at this time. It seems to be what is happening. Reason and chaos, chaos and reason. Maybe it resolves in peace. Tony Bianco